Prospecting and inviting is the most critical skill you need to develop to find success in your network marketing career. Prospecting is talking to people, and sharing your product and business, and inviting them to learn more via call, coffee, live meeting or event. How many will you have to talk to before you find success? Watch this video below to hear my odds–remember, yours could be different but it will give you a realistic idea of how long it could take, and that we need to maintain "marathon mentality"– it's not a sprint or a race. Those who win, endure! After watching the video, check out prospecting tips and language below, and also, our 80K Giveaway!!! ===>
— I brainstorm with my newbies regularly "who is your hottest prospect today, tell me about them, how can I help you reach out to them?" You can email them language, and prospecting tips too. For example:
Call or message people you know
 "I wanted to share some exciting news with you. I know you've built an incredible network in Chicago. I'm not sure if I mentioned this, but I am building a business there and I immediately thought of you because I know how well networked you are there. I'm hoping I could share more about what we're doing, and who we're looking to partner with as we expand there, and see if this is a good fit for anyone you know in the area. I'd love to pick your brains and get ideas of how to expand my business there. Do you have just a few minutes so I can share more?" 
Talk to people who provide you service (waiters, bank tellers, cashiers, etc)
"Thanks for your great service today! We are looking for people like you for our business! I know you are working, but could we exchange information? I'd love to tell you more about what I do! What time are you off of work so I can call?"
 Talk to people when you're out and about
Start with compliments—ask them questions about their family, where they work, etc. I like to eventually ask: Where are you from? –This question will lead you into what I like to call your "professional pick up line" later on.   Keep conversing like the game of ping pong, and eventually say how nice it was to meet them. Then ask: "Do you have a card? Earlier you mentioned you were from <their city>. My business is expanding to <their city>. I would like to give you a call and take just a few minutes to tell you what we're doing there, and who we're looking for and pick your brain.  I've so enjoyed talking to you—I'd love to reconnect and see if you can help me out."
OR Use the "Sample pack approach"
When you're out, give compliments, ask a lot of questions, and network! Have a normal conversation. Before you leave: "I've loved chatting with you today and want to leave you a little gift. I wanted to share some products with you that I am in love with! I know you'll love them too. There are instructions on how to use them. If you promise you will use them, I promise I will follow-up and stay in touch! Today is Sunday. I will call you on Tuesday to see how you love them. What time works best for you?" Exchange info, schedule a time to follow up, and FOLLOW UP!
Prospect on Facebook
"Hi Joanna! I realize this is out the blue…. hope you're well! I know you live in Utah & that market is an important area of growth for my business for multiple reasons. You may or may not have a personal interest, but either way I would love to tell you who I am looking for in the hopes you might know someone. Can you please shoot me your cell? I'm hoping you can help me & would love to catch up with you if nothing else. (*personalize the conversation here*) Congrats on your darling son! 10-15 minutes is all I need, as I'm sure that's all you have time for as well right now. Thanks & I'll drop you another message later next week if I don't hear from you first." Thanks Amy Byrd for this language!
Teach them to invite people on to a call or coffee with you – or to your next meeting or event!
I tell my newbies: Now, you need to start calling people, and scheduling calls and coffees with me. I will present to them and help you to get new customers and consultants. Daily activity and consistency is key! Have long term vision, and give your business the time it takes to be successful! It only takes a few "power partners" to build a big business–but you never know how many you'll have to talk to until you find them! So keep prospecting and inviting–and GO for your GOLD!
Speaking of GOLD…
You guys truly are some of the brightest blessings in my lives. When I left teaching to pursue my network marketing career, I felt sad to leave a profession that I loved–but I quickly realized that I could fulfill my passion for teaching through this blog, and through my books and CDs, and trainings. You've helped us build a dynamic community of people committed to living lives we love through the network marketing profession! Thanks to all of you, we just reached 80,000 fans on our Network Marketing Facebook Training page here=> https://www.facebook.com/SarahRobbinsFanPage
In honor of our 80,000 fans and friends on FB, we're doing a very simple, yet FUN "80k GIVEAWAY!" Come play=>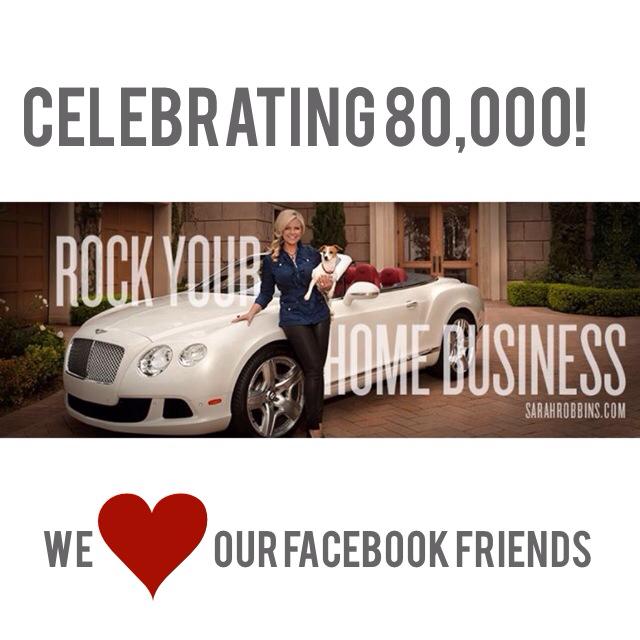 All you have to do is "share" this blog post on your favorite social site, or our recent Facebook post on prospecting that links to this blog post, HERE! 🙂 When you do, you are entered to win a 1) signed copy of our best-selling book "Rock Your Network Marketing Business", 2) a copy of the #1 selling CD series on Networking times, our "Network Marketing University" (our entire 7-figure success system on CDs)! Winners will be announced on Monday's blog, here! 🙂
If you haven't already, click the "LIKE" button on our network marketing training fanpage to get daily updates, inspiration, motivation, and education for FREE right to your newsfeed=> https://www.facebook.com/SarahRobbinsFanPage
Rock on Rock Stars! Thanks for "sharing" with your rock stars!
XO Sarah Robbins
©all my material is original and copyrighted. Share straight from the source! You rock!