What is prospecting? Webster's Dictionary defines it as looking for GOLD.
Prospecting is the process of talking to people, in hopes that you will find some who are interested in joining you on your products or in your business. In the process of these conversations, you'll "sift through" a lot of people to find a few who will join you. Then, you'll have a lot of people join you, of whom will work at varying paces. Keep in mind, it only takes a few power partners to change your life! That's your "gold"! Remember–you may have to talk to a lot to find those few, like sifting for gold. I love what one my friends Tonya says: "If I told you that you had 4 gold bricks in your back yard, would you continue to dig until you find them?" Sure you would…
I'm living proof of this concept—I've been sifting for a long time. You see, I've probably talked to thousands of people since I started my business 5 years ago. I've had over 100+ people  join me in business, and many customers. I have about 30 people still working the business at a moderate pace. I have 10 top leaders at this time, and of those about 3 people who account for a good chunk of my 7 figure income. I've found the same stats to be accurate industry wide. I was asked on stage at a major industry event with all of the top earners of their respective company's. They were asked how many they recruited—the numbers varied between 50-over 100 over time…when asked how many people accounted for the majority of their income…they all said between 2-3! The major growth of your organization will probably be tied to just 2-3 people too. But you never know what your personal set off odds will be, and how many conversations you'll have, or how many people will join you before you find them! So get ready to talk it up! Prospecting is now what you do for a living. The more people you share this with, the better your odds of finding your power partners!
I want you to learn to take the pressure off when you're prospecting. Think of it this way—you are just sharing & inviting. I don't want you to be emotionally connected to the outcome. Think of yourself like a waiter or a waitress pouring a cup of coffee. A server is not offended when you say "no" to the coffee. They keep offering it to everyone. Take all emotions out of this- and if people say no, keep pouring. Some people say no now, but may change their mind later. So always revisit them. Ask them to try your products, and keep pouring!
Often times I'm asked: So where do I find people? I smile–because we are surrounded by people–it just is a matter of whether you are willing to talk to them. So what do you say??? Let me share a few approaches to strike up conversation with those you know, and those you meet! And later I will leave you with a few powerful places and ways to prospect too!
Prospecting-Sharing With People You Know
When it comes to sharing with people I know, I love to be direct when possible and tell them I think they'd be great at what I'd do. But for people I'm less comfortable calling, I like to use a referral-based approach. This may be for someone you know from a professional level, really admire, or may be more of an acquaintance. For them, your approach may be something like this:
"Hi Susie, it's Sarah. I'm calling you for a reason today—do you have just a few minutes? Great, I wanted to first start by saying how much I respect you, and admire you. (pay them a genuine compliment) I know you've built an incredible network in Chicago. I'm not sure if I mentioned this,  but I am building my business there and I immediately thought of you because I know how well networked and respected you are there. I'm hoping I could share more about what we're doing, and who we're looking to partner with as we expand there, and see if this is a good fit for anyone you know in the area. Do you have just a few minutes so I could share more?"
Then go into sharing your story and the companys story. Invite them to hear more at an upcoming event, or an upcoming call.
Prospecting- Sharing With People You Meet
When striking up a conversation, I like to make it all about them! Almost like you're interviewing them—ask them a lot of questions! People love to talk about themselves! Start with compliments—ask them questions about their family, where they work, etc. I like to eventually ask: Where are you from? –This question will lead you into what I like to call your "professional pick up line" later on.   Keep conversing like the game of ping pong, and eventually say how nice it was to meet them.
Then ask: "Do you have a card? Earlier you mentioned you were from <their city>. My business is expanding to <their city>. I would like to give you a call and take just a few minutes to tell you what we're doing there, and who we're looking for and pick your brain.  I've so enjoyed talking to you—I'd love to reconnect and see if you can help me out."
If they ask what you do, share a quick one liner of the company about what you do! Then: "We just opened this market and the response has been huge. Again, I would love to talk to you about some ideas for expanding the market there, and if you have great connections who would be interested! Can we set up a 15 min chat tomorrow?"
When you call them back, share how great it was to meet them. Then say something like: " As I mentioned when we met I just started a new business and I'd love to tell you about it. Do you have a few minutes so I can share with you what we're doing and who may come to mind that may be interested in learning more?"
Then share your story and your company story. Invite them to hear more on an upcoming call, or to an event.
Other Power Prospecting Ideas:
Contact Lists–Create your contact list by going through your phone, your social media sites, address books, and company memory jogger lists. Call 5/day—tell them what you're up to, and ask for referrals.
Business launches—These are a great way to showcase your products and opportunity to a lot of people at once. Do your own launch events, and ask people to host one for you, as you "expand your business in their area".
Networking groups or chamber events– create strategic business relationships that allow you to meet others so you can help each other grow your businesses. I met one of my top leaders Stacey when I set up a booth at a womens networking event in California. She was looking for a home based opportunity ,approached me, and was one of my first leaders!
Events–whether it's a cocktail mixer, or a holiday event—when you are surrounded by people, it's a great opportunity to collect contact info and connect with them later.
People who provide you services—you've been doing business with them for years. Now it's their turn to help you out! Ask for their support!
Social Media– I get a lot of leads online! Mix up your posts with other interesting messages.  Be sure to find me on my personal Facebook, Twitter, Pinterest, and YouTube— follow my lead! I invite you to "follow the leader" to get ideas of what I am doing for my business, and modify with yours.
Lifestyle networking—you read how to strike up conversation. I love to do this while traveling—when people ask where I'm going, I tell them that I'm expanding my business there. The mall is another great place to meet new people—when clerks or waitresses give you great service, thank them. Tell them you're looking for people like them! Invite them to hear more.
Customers–  Ask your customers for referrals, or convert them into consultants/distributors when they fall in love with products!
Remember to keep your mind open, and your mouth open—then your business is open! You never know when or where you'll find your next rock star!
Hope you enjoyed a little taste of Power Prospecting from my Network Marketing University…more to come! For now, follow me on my FB Business Page for a daily dose of inspiration as you build your home based business!
The whole world is a lead. Happy Prospecting!
Rock on Rock Stars! Sarah "Rockin" Robbins
PS- Sharing ROCKS! Feel free to share this article on your social media site of choice, or with your team…and I'd love to hear from YOU! Comment below and tell me YOUR favorite places to prospect!
*****************
 © This material is the intellectual property of Sarah Robbins, Rockin Robbins Networking Team. If you choose to use this material, please share it directly from the site. If you wish to use it for other purposes, contact Sarah directly & cite the source please! Thank you, enjoy!
About Sarah "Rockin" Robbins: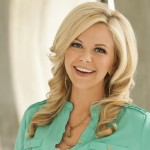 SARAH ROBBINS is a kindergarten teacher turned 7-figure annual residual income earner in network marketing, and is considered one of the world's leading network marketing consultants. Now in the top one percent income bracket of all women in America, she began part time with no business experience and had achieved 6-figures per MONTH by age 29. She has been featured in many of the best-selling books in the network marketing profession, and is a sought after speaker at the top events in the industry. As a speaker she contributes unique insights on success, prosperity, leadership and network marketing topics, and is fulfilling her lifelong dream of helping others. You can receive her FREE VIDEO for MLM Success HERE: https://sarahrobbins.com/free-video
If you're really serious about building a BIG business, for less than $100 you can also purchase her 7-figure Success System for home based businesses, the Network Marketing University HERE==> http://shop.sarahrobbins.com/SearchResults.asp?Cat=3
(*she's sure it will be one of the best investments you make to ROCK your business!)