The Grass Is Not GREENER:
(Yes you CAN, but SHOULD you?!)
Green Eggs + Spam! Green Grass, Poached Eggs, + Spamming or Soliciting!
What does these have in common? Read on…
Special Training With Sarah Robbins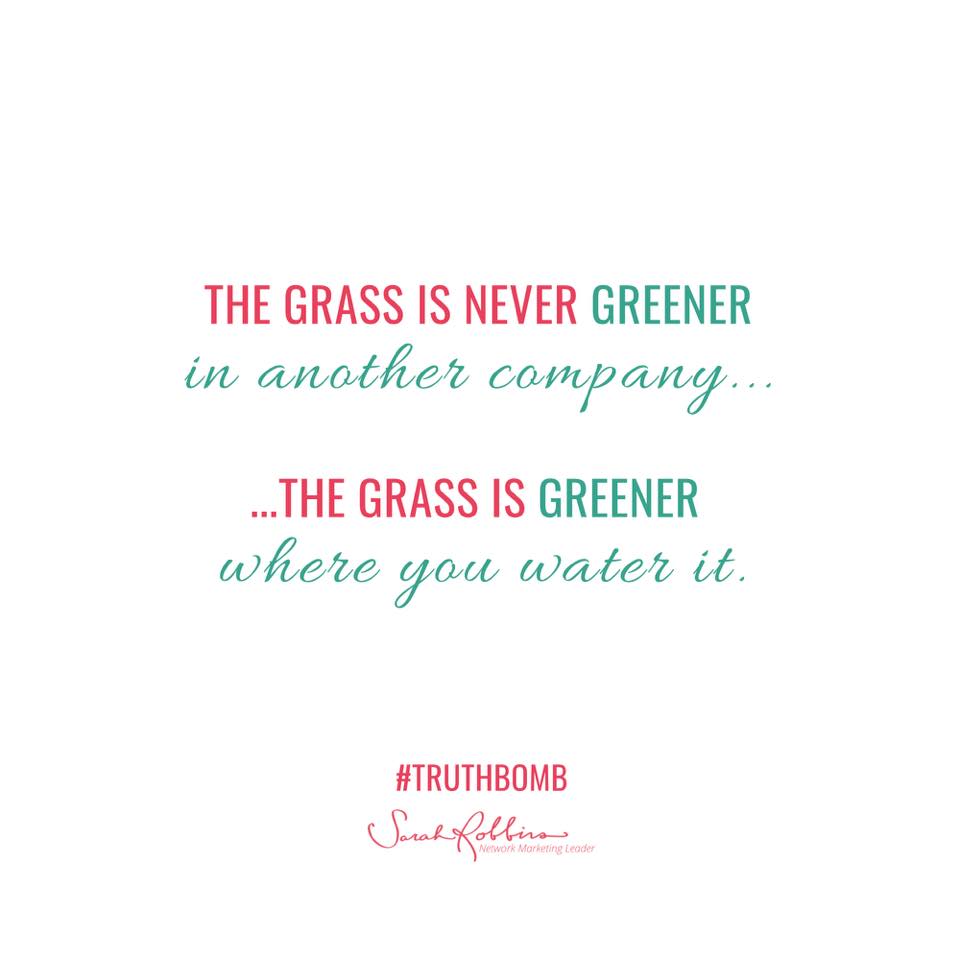 It was a cold night in Detroit—I was invited to dinner to "network" with a friend and her acquaintance. What started as a friendly dinner, later turned into a prospecting meeting. You see, this friends friend had an agenda—to try to recruit me into his company that night—leveraging scare tactics—toting all the reasons I should join him, and noting all the (fake, fear-based) reasons why he believed my business would fail + why I needed to add in "one more opportunity"– I remember feeling all of the feels, but chose not to make emotional decisions. (<= which by the way, has turned out to be the best business advice I have ever received, in many ways, in many situations in my life!)
This was about 5 years into my business-here we are 13 years after launch of our company, since becoming the #1 premium skincare brand in North America—the fastest growing in Australia—and having just come off a successful launch into our Japanese market—and we have plans to be #1 in every single global market that we launch from here.
The startup company this gentleman was in later shut down—and we went on to become a billion dollar brand, lovingly referred to as the "darlings of direct sales".
We have since seen similar situations happen in our industry over the years.
People who have fallen into the trap of the "bright, shiny, new and now"–
A family friend started with my mom and I when our company first launched. She was doing very well—in fact she was ahead of me in sales and team building. She was later offered an opportunity to join a jewelry company citing how she could be in "first in the prelaunch"—essentially the "Kris or Sarah" in this company (my mom and I were the first two consultants). All those promises…where did they lead to? The direct sales division didn't survive startup (most of them don't)—and it is now being sold on Etsy. She has had to re-start several businesses since. I can only imagine where she'd be today if she stayed focused on the business–and built on the strong foundation she started!
Our business continues to grow strong as a legacy company—as we have a proven brand with solid credibility.
This most likely was one of her greatest financial mistakes. Don't make this costly mistake, yourself!
5 things I've learned in my 13 year career  in the network marketing profession…
1)Timing in any company doesn't guarantee you a check. Your productivity influences it.
Plenty of people started at the same time as my mom and I–where are they now? Some were offered fancy positions to be in on the ground floor of something new–and guess where the company is now? Statistically most startup companies in the industry don't survive the first few years. Some re-brand, and re-launch as something "new" (over and over again!) I'm glad we chose a legacy company that is the envy of the industry. Be sure you do the same.
2) You have to work your business. Every day. I say it's netWORK marketing!   Personal activity is the cure to what ails you in your business. If you're unhappy with your results–Re-engage! Recruit! It's up to YOU- to get what you got, do what you did- over and over again.  Unrecognized complacency can lead to decline. The cure to what ails you will always be your personal activity!
3) Give it time—we will go through growth seasons + challenges like any business. There are ups and downs along the way. I'm looking for a business that will stand the test of time like many of my friends and mentors who are celebrating 30+ good years in ONE company. That's my goal. Longevity and legacy. Building something that will LAST. Never quit on a bad day–and never walk out on a good investment (solid business) because of an emotional decision.
4) Remember, that the grass is never greener in another company–the grass is only green where you water it. It's going to be HARD WORK no matter where you go. It's hard to start over, too. It's even harder to do two. And eventually, the newness wears off. Just like a marriage! You go through tough seasons. PICK YOUR HARD–
5) My advice: Pick ONE company with a product you're passionate about, and stick with it…
I do not know of one top leader in the industry who has ever done 2 companies at one time. It's very confusing to both your prospects and mostly to your team. It not only divides your time and focus- it divides theirs. It's a distraction. It hurts credibility. It affects our teams belief. Our team trusts us. This business is very much built on belief. I always say…just because we CAN do something doesn't mean we SHOULD—it doesn't mean it is what is right for our team. (In fact I have received emails and DMs of people who are hurt and confused by their leaders doing two!)
It's sad to see people who use their business as a life preserver –starting another company but trying to preserve their current business–as we all know that when a leader disengages, so does their team, and it isn't fair to anyone. And eventually that raft deflates and the team disintegrates. The notion that you can do two and sustain both is false in my opinion and as seen from my position as a field leader.
Sounds good- never works.
What to do if happens to you: (What to do if people leave) 
If people go–
Love people on the way out, as most will come back (as they have—we've seen this over time)
Recruit to replace your largest leader or leg on your team- never stop recruiting. People will go!
Set expectations (do not recruit or sell to our team) – it lacks integrity and violates our industry code of ethics. Never burn bridges, as it's a very small profession.And for the LOVE, if you're in the business:

STOP recruiting with hype. Just stop it! "You can be first"! "Ground Floor" yadayada- it makes our business look bad, and it just holds no truth. The truth is- the top 1% are just that- 1% and that's truth.
STOP teaching your people to recruit those in other companies- that's gross! And again, you give the industry a bad name. There are plenty of people to share with–assume that people in their company chose it for a reason- be happy for them! RESPECT THEM (+ the business that they, and their team has built!) I'm proud to have been in a company for over a decade that is not known for poaching or coaching people to do two! Your name gets known in the industry good or bad–and you never know when you will need a corporate connection, or field relationship, later. Trust me. Trust that. Especially if you plan on building something with significance.
STOP quitting. Never quit on a bad day/ season/ year. Every company goes through growing pains and we all have bad days where we feel like we aren't cut out for this. Living by your feelings is not strategy, and it certainly won't lead you to success. The biggest financial mistake I see people make: walking out on an investment based on an emotional decision, versus giving it time and riding it out. This plays out in many scenarios. Seek wise counsel. Pray. And be led by peace- and until you have that peace, don't do a thing. The fact that it doesn't "feel right" means it's "not right" (or the right time.) Trust your intuition.

Ok, off my box. 🙂
Remember–You don't build multiple streams of income in the industry by joining another company–you build multiple streams of income by recruiting, and developing new leaders and customers on your team.
You don't need a new opportunity this new year–but you need a new commitment to the opportunity you have been given. 
Like what you've learned? Sign up for my FREE Prospecting Guide @ ProspectingGuide.com
Don't forget to share this with your besties in the biz!