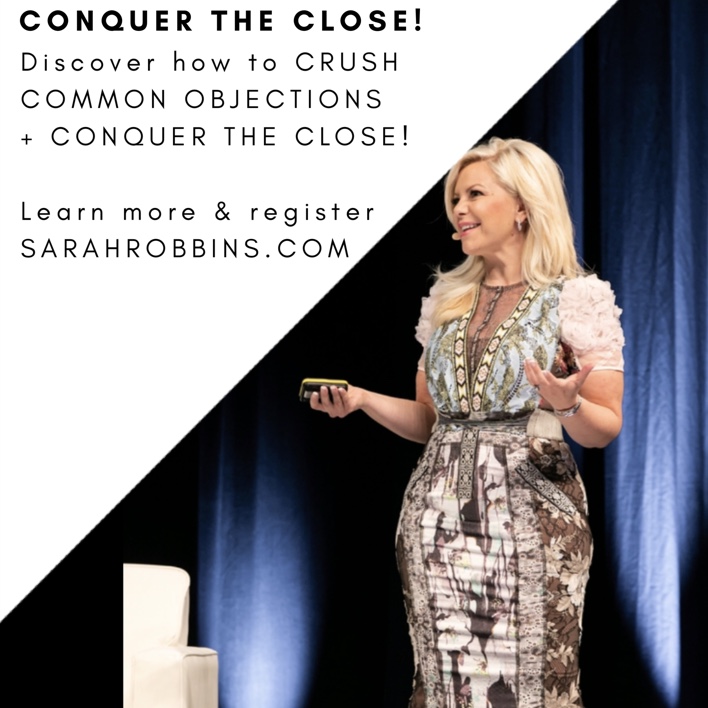 Conquer the Close!
90 Minute Live Training With Sarah Robbins
webinar

This Product is part of the Rock Star Recruiting School University
Hey there, Rock Star!
Are you ready to CONQUER THE CLOSE, CRACK OBJECTIONS, and CRUSH YOUR CONVERSION of new customers + consultants? Get ready! 
​​​
Join Sarah Robbins for LIVE TRAINING as she teaches you how to answer questions, handle objections, and "conquer the close"–bringing people out of your prospecting pipeline and into your business as a customer or business partner!
Discover How To:
-Crush the most common objections
-Assume the sale and ask for the order or enrollment
-Conquer the "Close" in every setting–whether on a call, at coffee, meeting or event!
+ So Much More!
If you want to increase your conversions, handle objections with confidence, and conquer the close (assume the sale, + ask for the enrollment), this class is for you!
ROCK STAR RECRUITING SCHOOL UNIVERSITY
This item is included in the Rock Star Recruiting School University. Where you will get all of Sarah's training at the deepest discount. The Rock Star Recruiting School University is an online portal to Sarah's entire success system and training vault. This one-time fee university provides all the material you need to help"rock your network marketing business!" Upgrade your purchase and training expenses by purchasing the Rock Star University now.